Choice of Clothes and Backgrounds
Professional photo retouching with any purchase of a memorial plaque with no extra cost.
Everyone will certainly choose the most beautiful photos of our loved ones for memorial plaques. However, it happens frequently that the family simply doesn't own a photograph of sufficient quality. The photos are often damaged, amateur, with bad lighting or blurry or simply ravaged by time. However, these images are not useless.
We provide professional photo retouching of these kind of photos. Here, we try to extract the best of the photo to get a nice one, appropriate for memorial plaque.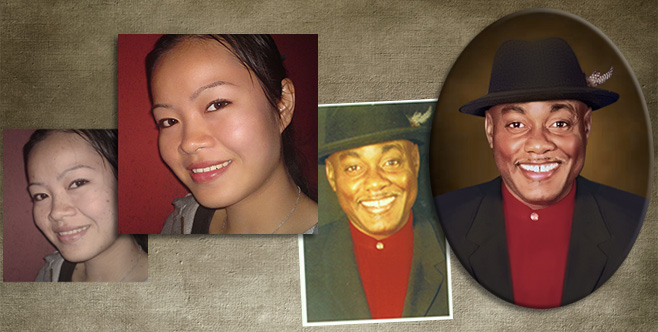 All of this is done for free on any single image. It includes light and color correction, background removal, image cleaning, repairing of minor impairments and imperfections.
Variety of backgrounds guaranties that the memorial portrait will perfectly match any monument stone structure. Every edited image is sent to a client with several different appropriate background options, so that the client can choose the desired one.
We do everything to get a really convenient and visually appealing picture.
Furthermore, with an acceptable compensation we can meet each of your photo editing requirements such as photo montage, colorizing black and white photo, photo restoration of a pretty damaged photo etc. These services require a somewhat longer processing time which our technicians use to get the perfect final product – beautiful memorial plaque.
Of course, there are limits beyond which we can not exceed, depending on the degree of damage or other deficiencies of the photo you send us. Therefore, it is wise to choose the best quality picture that you own and to leave everything else to us.
Feel free to send us a photo for a free estimate.